9 Tips for Staging Your Home to Sell July 16, 2017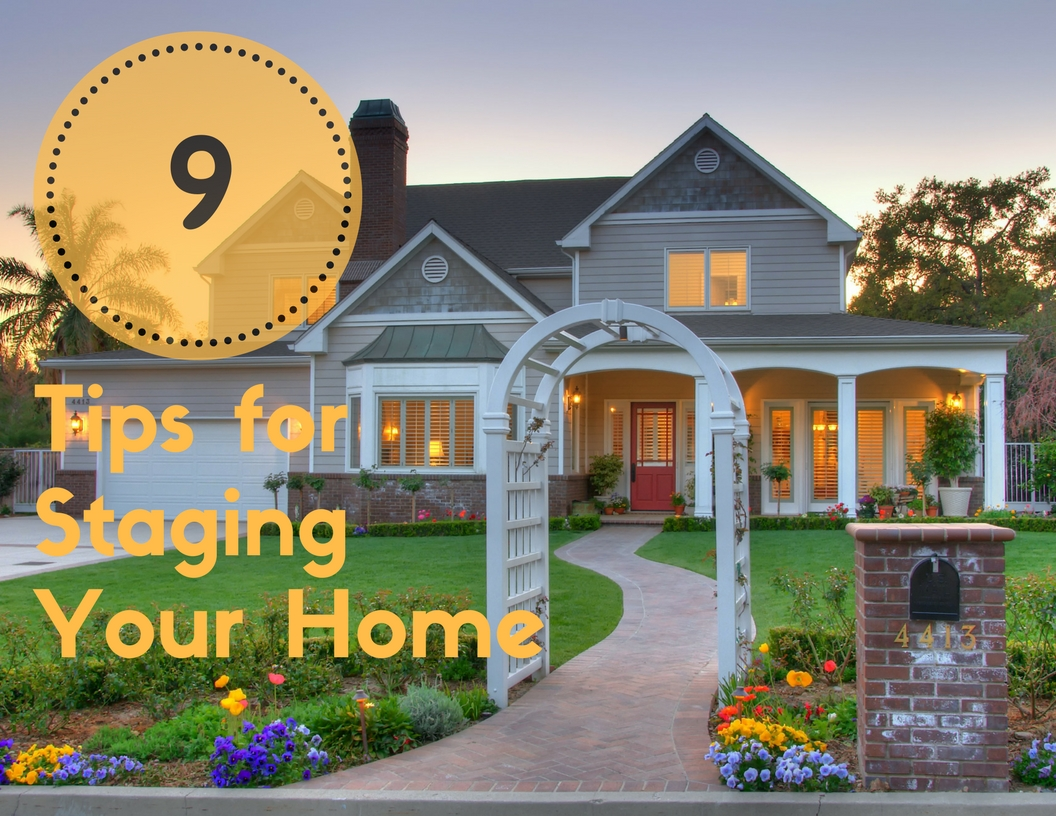 9 Tips for Staging Your Home to Sell
So you're thinking of selling your home, and you want it to be presented in its best possible light to potential buyers. Right? Well you've probably heard this before, but the way you live when your house is for sale is NOT the way you normally live. Staging your home to sell is for one purpose and one purpose only – to make it sell!
You don't have to hire a professional home stager and buy all new furniture to get the look buyers love. I'm going to go beyond the obvious tips about staging your home to sell that you've all heard before. So without further ado, here are nine small details when staging your home to sell that have a great impact with minimal effort and/or money involved!
1. Let the sunlight in.
Sunny rooms with lots of light – that's what buyers love to see. Pack up your heavy, ornate draperies. Blinds or plantation shutters are great if they're clean, but open them before showings. Sheer curtains are fine as well since they don't block light.
The downside? Now you have to clean your windows! Sorry.
2. Make your bathrooms look like a hotel.
With the linens, that is. Sparkling clean white towels make the bathroom look like a spa or luxury hotel. Buy a set on sale and put them out before showings, then put them away again afterwards. Don't use them! They are for show only. I've seen people tie a lovely ribbon around the center of the towels as they're hanging and this little decorative touch is really nice.
A new white shower curtain and bathmat are great too. All this white screams clean, and what better word to describe a bathroom?
3. Turn the lights on – every single one of them!
Here's a great tip on figuring out how much light your rooms need. Length of the room x width of the room x 1.5 = the wattage necessary to make a room bright enough. So a 12′ x 15′ room needs 270 watts of light. I typically have one or two lights with a 60 watt bulb in any given room. If I'm lucky there's a ceiling fan in the room that holds 3 bulbs. That's still only 180 watts! So I'm guilty of not using enough lamps in my own house. Do as I say, not as I do.
If after opening all your blinds and cleaning your windows and turning on the lights your room is STILL dark? Run on over to Goodwill or Target and buy a few inexpensive lamps. If a buyer walks into your family room and it feels dark and gloomy, they'll hate it. Please trust me on this! Dark = dreary, depressing, sad. This is not the impression you want to give buyers. You are staging your home to sell, not to save a few bucks on your electric bill!
4. Give the kitchen and/or bathroom a facelift.
Yes, buyers love granite counters above all else. Better than Corian or Silestone, better than tile, way better than laminate. But if your kitchen doesn't have granite, you don't need to remodel it now. Faucets, light fixtures, and cabinet knobs make a HUGE difference. Brushed nickel and oil rubbed bronze are the two go-to colors right now.
New faucets, cabinets, lights, and maybe even a little new paint can completely change how a kitchen or bathroom is perceived by potential buyers! You may be spending a few hundred dollars extra, but in the long run it will be more than worth it. Trust me!
5. Replace family photos with art or mirrors.
Neutral wall art (aka the stuff you can buy at Kirkland's or TJ Maxx) is inexpensive and unoffensive. While family photos are homey and welcoming, the goal is to make the buyers visualize themselves living there. If all they see are photos of YOUR family and YOUR vacations and YOUR child's graduation, it makes it harder for them to picture themselves living there. Remember, you're staging your home to sell so you need to make it look up to date, welcoming, warm, and inviting without making it feel like it's so you that no one else would ever be comfortable there.
Mirrors also give extra light to a room so instead of a giant family photo in the living room, try hanging a mirror instead. If it's across from a window or lamp it should also illuminate the room that much more!
6. Add some sparkle.
It's easy to update a home and make it look more modern and luxurious simply by throwing in some metallic accents. A dish on a hall table, throw pillows, silver chargers on the dining room table… metallics are neutrals with oomph!
7. Ditch the rugs.
Hardwood floors are a major selling point for the majority of buyers. I've had numerous buyers refuse to make an offer on a house that had carpet throughout the main living area. So if you have wood floors, show them off! A stained rug not only looks bad, it can also trap odors. If you have dogs or cats that rug might also smell like them, which is not a good thing. If your floors are in good condition, show them off by putting the rugs in storage!
8. Set the temperature.
This may seem silly but having the house be a comfortable temperature is a huge deal that no one ever really thinks about. If buyers walk into a house that's overly hot and stuffy, it's miserable! And in the winter if it's raining and 38 degrees out, walking into a house that's 65 degrees does not make a welcoming impression either.
If you normally turn down the thermostat to save energy and turn off the lights to save on your power bill, more power to you. I get it and I agree with you – when you are not staging your home to sell! Hopefully your home will only be on the market a few weeks! So commit yourself to increasing your power bill for a month. Then when you move to your new home you can go back to your energy-efficient ways!
9. Rearrange your furniture.
Ever noticed how on TV or in decorating catalogs the pieces are always floating in the room? They're not pushed up against the wall. Try pulling your couch and love seat away from the walls and have them face each other with the coffee table in between them. Angle chairs to face the conversation area rather than the TV. A quick search on Pinterest for "how to arrange furniture" will give you tons of examples!
Again, staging your home to sell doesn't mean it's going to be terribly comfortable or convenient for you, the homeowner, in the meantime But making it look clean, contemporary, filled with sunlight, spacious, and welcoming means your home will appeal to buyers and THAT, my friends, is what it's all about!